"Crash renews oil-by-rail fears"
In June of this year President Obama stated that the he will not approve the Keystone XL pipeline if that would lead to increased GHG emissions.
The North American fossil fuel industry notes that tar sands oil is already moving and will move by rail to US refineries on the Gulf Coast.  This means that approval of Keystone would not result in significantly increased emissions.
The recent Lac Megantic disaster and now the derailment of tanker cars near Gainford, Alberta, raise the question whether the fossil fuel industry will find the risks of rail transport of tar sands oil acceptable.   The industry may change tacks and justify approval of Keystone for safety reasons.
"Canada to push resource development"
Leona Aglukkaq, Canada's Minister of the Environment, is chair of the Arctic Council, which includes other polar nations. She will be pressing for "responsible resource development" and safe Arctic shipping.
According to the Minister, "safe circumpolar communities" will be free from "short-lived" climate pollutants such as black carbon and methane.  Still the real risk is that warming of the Arctic will result in the release of large quantities of methane from the permafrost.
Responsible resource development includes extraction of oil and natural gas from the Arctic Ocean seabed. Scientists advise that a large part of fossil fuels reserves  must be left "in the ground" to avoid the most serious consequences of global warming.  Embarking on a mammoth program for extraction of fossil fuels from Arctic regions would make any limit on global warming impossible to achieve.
"Officials warn that blaze may reach Sydney"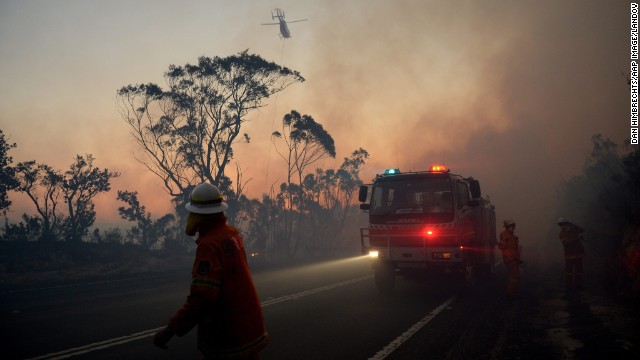 Last month, Australians rejected a government that was very committed to reducing GHG emissions. Clearly a majority of Australians did not accept the warnings of climate change science.
As promised in its election platform, the new Government immediately disbanded the  Climate Commission, which was established in 2011 with the task of communicating the dangers of climate change to the Australian public.  The Government is also dismantling the Climate Change Authority, which provides advice on emission reduction targets, and the Clean Evidence Finance Corporation, which invests in renewable energy.
Nature "responded" with an enormous blaze that could merge with others and create a "mega fire" as weather conditions worsen!  What hubris: this blaze threatens the great Australian city of Sydney!